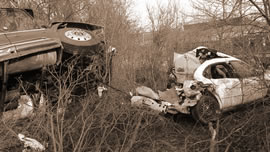 We can help. The Law Offices of F. William Thetford, located in Oklahoma City, Oklahoma, represent people who have been injured, and the families of those who have been killed, in car accidents.
The law calls these kinds of cases "personal injury" and "wrongful death" cases. To learn more about how we can help you...
Thetford Law Offices
1319 North Shartel Avenue
Oklahoma City, OK 73103-2403


call: 405 235-9229
toll free: 800 725-9229
fax: 405 235-2941
email: Our Office
Free Case Evaluation
If you would like to come in for a visit please call 405 235-9229 to arrange an appointment.
Or you can call 405 235-9229 and we will conduct your interview on the phone.
Or simply fill out the form to the right and someone from the firm will contact you.
God bless you both in your work. You helped me so much, thank you. My love in and through Christ Jesus. I will never forget you.

Our site is mobile friendly so please, scan our QR code and bookmark us on your phone.