Personal Injury
The Thetford Law Firm, located in Oklahoma City, Oklahoma, represent people who have been injured, and the families of those who have been killed, by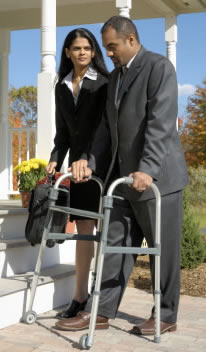 the negligence or careless acts of others.
While auto accidents account for a great number of serious injuries in Oklahoma, they are not the only cause. Any time a person is injured due to someone else's negligence, recklessness, or intentional act, the law calls the case a "personal injury" case. If the person dies as a result, the legal case is called a "wrongful death" case. In either case, the law requires the responsible party to compensate the injured party, or the family of the person killed.
We handle all types of Oklahoma personal injury and wrongful death cases. These include, just as an example:
Car accidents
Motorcycle accidents
Semi truck collisions
Bicycle & pedestrian accidents
Dog bites
Slip and fall accidents
Defective or dangerous products
Toxic or hazardous materials
Medical malpractice
Drugs, such as ephedra
Nursing home negligence or abuse
We can also help you with insurance company problems, such as:
Denial of health insurance claim
HMO refusal to pay
Insurance company bad faith
Wrongful denial of claim
What Can an Attorney Do For Me?
Often people don't understand why they need to see an attorney when an injury or accidental death has occurred. A lawyer who concentrates most of his or her practice on representing the individual in a personal injury or wrongful death case can:
Negotiate with the insurance companies. The insurance companies know which lawyers are experienced, and they are more likely to pay a fair settlement when you are represented by an experienced personal injury lawyer.
Investigate the facts of the accident. There are many details which may be significant to your case. An experienced lawyer knows what to look for and how to find it quickly.
Consult with your physician. An experienced personal injury lawyer knows a great deal about the medical profession and is equipped to intelligently discuss your situation with the physician to determine the full extent of your injuries. The attorney can also help you find a qualified physician if you do not already have one.
Know the law. An experienced personal injury attorney can accurately tell you whether you have a case, against whom, and what your chances are.
Get you the best result, as soon as possible. Most personal injury and wrongful death cases settle out of court. An experienced personal injury lawyer can determine whether settlement is in your best interests, and when to settle to your best advantage. The lawyer will also know when you should take the case to trial, and will be able to competently represent you in court.
Remember, an experienced personal injury lawyer has handled many other injury cases and regularly settles cases with insurance companies. This experience will operate to your advantage.
What Can I Get Paid For?
Monetary damages are what the law provides for the wrongfully injured person and the families of those wrongfully killed. The object is to utilize dollars to put you back in the position you were in before the injury, to the extent possible. If you are in the right, you may be entitled to recover money for the following:
Nature, extent, and duration of injuries
Pain and suffering, of both body and mind
Disability, both temporary and permanent
Humiliation and embarrassment
Reasonable expenses resulting from injury>
Medical expenses
Loss of income
Value of damage to property
In the event of wrongful death, the law also provides for monetary recovery of:
Loss of future earnings
Funeral bills
Grief and heartache suffered by the family
Do I Have to Pay Anything?
Personal injury lawyers charge clients on a contingent fee basis. This means that you pay your attorney an agreed percentage of the amount you recover. If you do not recover, you do not have to pay your attorney.
How Long Can I Wait Before Filing My Claim?
Under state law, the time limit may vary, depending upon the type of accident and/or facts involved. Your attorney can advise you of the statute of limitations in your case. The best advice is, don't wait too long before you seek legal advice and don't be afraid to ask questions. Have you looked at our personal injury frequently asked questions page?
At the Thetford Law Firm, we handle all types of personal injury and wrongful death cases. We look forward to hearing from you so that we can answer all your questions. For your convenience, you can reach us 24 hours a day, 7 days a week.
If you're injured, remember:
Call an experienced personal injury attorney like F. William Thetford as soon as possible for advice and assistance.
Call us for more specific information
and find out how we can
Help You on Your Claim.
Don't delay – find out your rights as soon as possible. Let us help you. Please contact us for a free initial consultation to discuss your situation. Call 405 235-9229, toll free 800-725-9229, send email to b.thetford@thetfordlaw.com or request a free case evaluation.